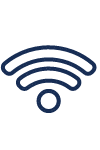 Free Wifi
Join the free Wifi network and use the internet when shopping at Tulipan!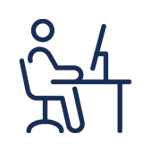 A comfortable mini-coworking zone, perfect for work, recruitment interviews, business meetings or relaxation! There are comfortable sofas with tables, as well as points where you can recharge your phone or laptop. The space is on the patio in the restaurant area, right next to the center door to the center.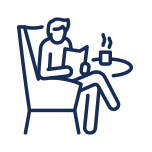 Rest zone
The leisure zone was created to make the time pleasant and to improve the comfort of customers. Anyone who would like to relax while shopping or after a meal, can do so on comfortable sofas located in the middle of the restaurant area. After resting, you can continue your visit!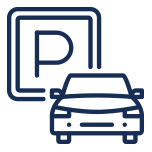 Free car park
There are 1,429 parking spaces on the premises of Tulipan. Anyone who plans a visit to the shopping center can leave their car in one of them for any period of time without having to pay for a stop.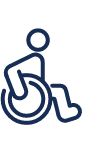 Facilities for the disabled
We have designated special, comfortable parking spaces for people with disabilities in our parking lot, and a properly adapted toilet has been provided in the Centre. You can also rent a wheelchair.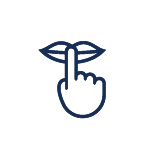 Silent hours
We know that people on the autism spectrum can feel uncomfortable in places full of sounds and lights. Therefore, in order to take care of our customers with special needs, we are joining the Auchan campaign "Auchan Hours of Silence". Every Tuesday, between 3 p.m. and 5 p.m., music and messages are muted in Tulipana, and in addition, all TV sets and dimmed lights are turned off in the hypermarket.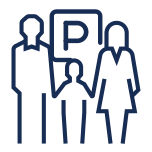 Parking spaces for families
With family visits to Tulipan in mind, there are specially designated areas dedicated to parents with young children in the free car park. This place is characterized by a slightly larger area, thanks to which it is much easier for parents to take a car seat or stroller out of the car. An additional advantage is the fact that they are located right next to the entrance to the shopping center.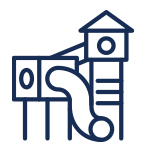 Children's Playground
The youngest visitors to Tulipan can enjoy the playground – a real paradise for all kids. The square is located in the patio area in the restaurant area. Shopping with children is a real challenge, so it's a good idea to take a look at the playground for a while. In addition to a place in the food court, Tulipan also has a second mini-play zone, right next to the Abra store.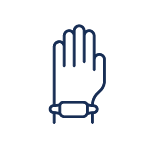 "Niezgubka" headband for children
Large spaces and a lot of shopping experiences can make it difficult for children to find their parents once lost sight of. Therefore, in order to ensure their safety and peace for adults, in our Center you can receive special bands – niezgubki. Thanks to them, even the most stressful situation will have a positive end. You should go to the security of the Tulipan Shopping Center to get the wristbands.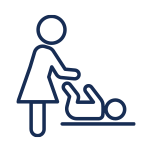 Parent and child room
On the premises of Tulipana there is a parent and child room, where customers with their toddlers can use the toilet, changing table, and comfortable feeding chair free of charge, as well as heat their meals in a microwave oven. It is a quiet and secluded place where you can change clothes or feed your child while shopping. The room is located next to the toilets from the Pepco side.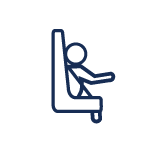 Children's seats in the toilets
As every parent knows, for active and demanding babies, going to the toilet can be quite a feat. Fortunately, in our toilets you will find special seats for children, thanks to which family shopping will be carried out in a calm and stress-free atmosphere.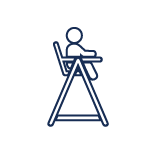 High chairs for feeding children in the catering area
For the comfort of our youngest customers, in the gastronomic zone of the Tulipan Shopping Center you will find special publicly accessible high chairs for feeding children. Thanks to them, family meals will be even safer and more convenient than before.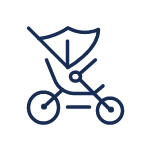 Stroller
Our Center is the perfect place for family shopping. That is why we care for the comfort of both adults and children. And with the parents visiting Tulipana with their young children in mind, we have introduced the possibility of renting a stroller for children. It is available from the Security Center, and its borrowing is free of charge for the time of shopping.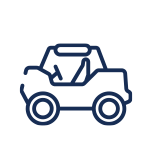 Carriages, cars for rent
Cars for children available in the gallery are an additional pro-family element that is worth using. Not only do they make it easier for children to move around the shopping center, but also give them a lot of joy, and parents – an additional place for shopping.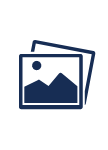 Photobooth
In the Centre you will find a device for self-taking photos – both for official documents, as well as for funny, commemorative, occasional photos. Just choose the appropriate template in the menu of our photobooth.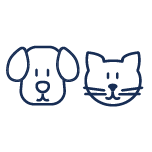 Shopping with a pet
In our center you can shop with your pet! As part of the campaign, special stickers appeared on the shop windows informing about which shops can or cannot be entered with a pet.
In order for everyone to feel comfortable and safe with us, remember a few rules: dogs should be on a leash and have a muzzle on their face, while cats should be in a carrier. To make the visit a pleasure for all of us, remember to be responsible for the behavior and cleanliness of your pets.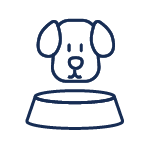 Dog bowls
Dog guides and four-legged customers visiting the pet shop are always welcome with us! For them and for those pets who will be waiting for their shopping owners in front of Tulip, we have prepared special stands with water bowls. Thanks to them, dogs and their guardians will be able to comfortably spend time in our Center.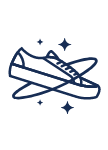 Shoe cleaner
In the Centre, customers can use a shoe cleaning device. The service is free.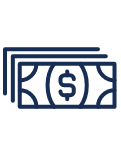 Exchange / ATM / Cash deposit machine / Bank shop
In Tulipan shopping centre you will exchange currency in an exchange office; you will deposit or withdraw cash using several ATMs and cash deposit machines located in our Centre.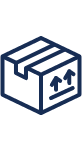 Parcel Lockers
Use InPost, Allegro and DPD Parcel Lockers to quickly and conveniently send or collect a parcel. Parcel lockers are available 24 hours a day, 7 days a week.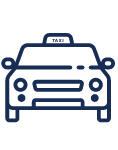 TAXI
There is a taxi stand next to the main entrance, thanks to which communication with our Centre is fast and convenient.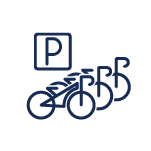 Bicycle stands
The ecological lifestyle is very close to us. That is why we understand the needs of customers who come to Tulipan on bicycles. It is with them in mind that, in front of each entrance to our Center, we have placed bicycle stands, allowing you to safely leave your bike while shopping.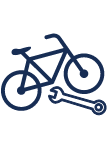 Bike repair station
Are you mo­­ving by bi­­ke? Fe­­el free to vi­­sit our ce­n­tre! In ca­­se of any ne­­ed, you can use the se­l­f-se­­rvi­­ce bi­­ke re­­pa­­ir sta­­tion. The­­re are ba­­sic to­­ols and ac­ce­s­so­­ries, so you co­­uld re­­pa­­ir any mi­­nor fa­­i­lu­­res or in­­fla­­te ty­­res ef­fo­r­tle­s­sly.
SUBSCRIBE
Subscribe to our newsletter and stay up-to-date! See you there!
Be up to date!
We will inform you about the latest events and promotions.